September 22nd, 2011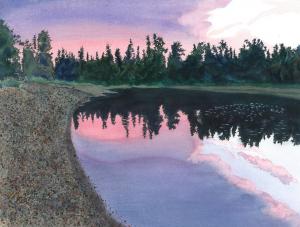 Anyhow, this is the photo of the Chena River that I started to paint a week or so ago. One really should avoid doing too much thinking about the progress of a painting, but, when you seem to be going backwards… maybe just a bit of analysis is in order.

I started with a quick watercolor sketch in my old sketchbook which was delightful and fresh. The only line I drew with a pencil was the horizon. I'll probably have to run over to Office Max and make a scan of it to have a decent rendering for notes or to upload to the website, (I am thinking of doing a new gallery named: My Sketchbook) but, for now, this photo will have to suffice.




So, from there I went to a quarter sheet sketch. I now feel that the quarter sheet sketch was a stupid thing to get involved with. This is supposed to be a simple statement about an emotionally charged mid-summer Alaskan sunset – a lot of detail is not necessary. Just be close on the colors and shapes and the story tells itself. This was my original sketch.



In fact, the first sketch was void of any sky or cloud indications – the longer you look at a scene or a thing, the more you see. The question for the artist is, "what did you see when you knew that you wanted to paint the subject?"

I was discussing this with Bubba at lunch when I did a little value sketch on an old GAB note pad. Even in pencil, it said exactly what I wanted to say. This is cropped out of a larger photo, but it is enough.

So I went back into my studio and dashed off a watercolor post card.


As far as I'm concerned, this pretty much "nailed" the picture that I wanted to paint. Leading us to the question, "why didn't you paint this on a quarter sheet in the first place?" Don't think I haven't asked myself that one more than a few times over the last twenty years.

Too much thought right now. I'll write more about this later.

Today I've been painting pale pomegranate clouds in the reflection of a light cobalt blue sky in the river. I need to spend more time playing with skies and reflections.

09/07/2011
Back in 2008, when I was doing the St. Mary's watercolors, I felt I had really gotten the knack of skies and water and reflections. Now I seem to be stumbling around without a clue of how to do this painting. Too much thinking.

Still, I did a couple of things that I was pleased with yesterday.

Today I've been working on a more fluid post card. So far I've dropped in the sky, the river and the shore. When these are dry I'll go for the trees and their reflections. So far it's pretty clean.


09/09/2011
I continue to be disgruntled with my progress on the quarter sheet – I have two of them underway each with serious color and composition flaws.

09/16/2011
There is nothing like a few nights in the woods to make you feel better about a painting. I spent most of the afternoon aimlessly splattering the stones on the left bank of the Chena on my "throw-away" quarter sheet and I may not throw it away. It's moving in a good direction.

So, here's the sad history of my quarter sheet efforts.

I felt that the first quarter sheet I attempted was too light in color on the sky and the water. It also had a "blossom" across the sky that I could have repaired but instead I opted to use it to work on the colors I wanted to use for the trees. I was also unhappy with the permanent marker tree line that I had sketched above the waterline. In fact, I think this was my second quarter sheet, not the first. Now that I am further along in my thought process on this subject, I really don't think that the light sky was that much of a problem.



In any event, I flipped this one over, artist taped the edges with and tried to lay down a cleaner, simpler sketch. (The kiss of death for this draft was my work on the left hand trees – just awful!!)

This is how the third quarter sheet looked after my first washes of sky and water.



I still have to write something about the second quarter sheet, which I thought was going to be my "throw-away" piece. But, it turns out that I don't have any photos of that quarter sheet. I will make one and insert it here.

I also want to mention my more detailed pencil sketch. I'm very pleased with that draft. Here it is…



And, barring the usual distractions, I will write a little more tomorrow.

09/17/2011
Remember:
- Distant sandbar needs work
- Mask random leaves and bugs on tree reflections in the river
- Tree trunks and grass reflections
- Water needed some rocks and leaves
- Setting sun in tree line!!
But, it's looking pretty good. I will probably finish both "throw-away" quarter sheets. They are each interesting in their own way. Here is how they look this morning.



Sunset on the Chena – quarter sheet II
Remember this was the "throw-away" piece. I really like where it is right now, emotionally and composition wise, even with all of its flaws.

Sunset on the Chena – quarter sheet became the flip side of Sunset on the Chena – quarter sheet – III.




I probably got too intense on the violet in this one, but I think it will still make an interesting practice piece.

Enough talk! Time for painting and football.

7:38, p. m.
It was a good day painting! I'll take a photo of my progress in the morning.

09/18/2011



In the serious draft of this subject the sand bar needs a good splattering – small brush only.

I painted the reflection of the trees in the water this evening. At first I was pretty happy with how they looked but then I realized they were too short.



They need to be taller at the near end of the river and lower at the distant bend in the river. I reworked the reflections. I'll have to see how I feel about them in the morning.

09/19/2011
There is something so satisfying about getting to this point in the creation of a watercolor. I reworked the tree line on the far side of the river last night and this is how This is how Sunset on the Chena – quarter sheet – II looked this morning.



In addition to extending the tree line I defined the edged with a small black permanent marker. After looking at the watercolor I decided that the reflections needed to be darker and more even in tone. I used a mix of Indigo, burnt sienna and Poppy to create a rich dark gray and attacked the trees. Then I toned down the distant shore line and re-worked the sandbar where the river curves to the left. I also darkened the grass on the far shore where the river bends. And this is where I am just before noon today.



I have a few other tricks to do before I will be finished with this, but, barring any major screw-ups, I do not think another draft of this subject will be necessary.

There is something so satisfying about getting to this point in the creation of a watercolor.

I removed the mask from the tree reflections and did a very light gray wash across that area. It looks great! Now I have splattered "stones" on the dark water in the foreground and am getting ready to do a midnight blue and indigo wash in that area. Then I am playing with the idea of splattering some diluted vermillion on the bank and at the water's edge to finish the watercolor. I'm also thinking that I need to further tone down the distant bank with neutral tint.

09/20/2011
I reworked the leading edge of the clouds to allow more poppy and soften up the edges of clouds in other parts of the sky. I think the work was worthwhile. I removed the mask splatter from the water. I didn't get a lot of bang for the buck from that effort. I also re=splattered the beach. That produced a very good result.



I tried to tone the green on the other side of the river down, but I'm still not happy with the distant shore line. I may try a Cobalt Turquoise glaze. If that doesn't work I think it's time to sign this watercolor and move on. The question is whether to continue with Sunset on the Chena – quarter sheet – III or start something new.

In any event, this worked out well for a "throw-away" piece.

"The perfect is the enemy of the good."

I did the Cobalt Blue glaze and then a second glaze with neutral tint. It's very close. Then I started to look at the right hand corner of the sky. I meant to put a pale wash of Naples Yellow there from the beginning, but I had not done so. So I left a thin strip of dry paper around the pink clouds and and laid in a super pale wash of Naples Yellow. Bingo! A wash of Payne's Gray on the far bank and I'm done.

Voila!